Update: Check out this post with 14 fun, free things to do in San Diego, CA.
Hi C.R.A.F.T. Readers!! My name is Bev and I blog over at
Flamingo Toes
. I am loving this series of Jamie's and I'm so glad I can join in the fun! We are lucky enough to live in Carlsbad, CA – which is about 20 minutes north of San Diego. So I'll be sharing some things you can do around San Diego County today!
10 Fun Things to Do in San Diego
1. Let's start with the obvious –
THE BEACH!
It doesn't get much better than a day playing in the sand and waves.
Here are some ideas for different beaches – depending on what you'd like to do:
2. La Jolla Park/Seal Beach/Tide Pools
La Jolla Cove
is a great place to spend the day. You will find a large grassy area for playing with barbecues and picnic tables, tide pools and just a short walk to Seal Beach where you can view seals playing in the water or sunning on the beach. They stink but they're fun to watch.
Those activities are free, but if you're adventurous and want to spend some of your vacation dollars – you can also rent kayaks or go scuba diving!
Located in the heart of San Diego – Balboa Park is the home to 15 museums, gardens, the San Diego Zoo, concerts and art exhibits.
Parking is free and there are walks and trails throughout. There are 8 gardens – most of which are free.
There are also lots of play and picnic areas.
For a small fee ($2) you can ride the Historic Carousel or the Miniature Train.
For larger fees 🙂 you can visit the Museums or the Zoo!
Seaport Village is located right on the bay in downtown San Diego.
It is filled with shops, restaurants and entertainment, or you can just sit and watch the activity in the bay.
Parking is a small fee, especially if you make a purchase in one of the shops or restaurants.
5. Summer Concerts in the Park
Several local parks offer free concert series throughout the summer. Carlsbad hosts Jazz in the Park on Friday Nights. In July and August at Moonlight Beach in Encinitas you can grab a spot on the beach and enjoy a live concert. Call 760.633.2756 for info.
For a small National Park entrance fee ($5 per vehicle) you can explore beautiful Cabrillo Park in Point Loma.
Located just minutes from downtown San Diego – Cabrillo Park is the home of the Point Loma Lighthouse, trails, tide pools and amazing views! They have a Junior Ranger program for kids – check the
Visitor Center for info
.
7. Farmer's Markets
San Diego county is full of Farmer's Markets – hosted in different cities around town every day. Some markets sell only food, some also have craft items as well. Check the
SD Farm Bureau
site for times and locations.
8. Mt. Soledad, La Jolla
Take a quick scenic drive up to Mt. Soledad, a beautiful Veterans Memorial set high on a hill in La Jolla. It has a breathtaking view of San Diego.
9. Coronado Island
Not only are the beaches and bridge fabulous, but Coronado is home to shopping, restaurants and the gorgeous Hotel Del Coronado. The hotel was built in 1888 and the buildings and grounds are very pretty.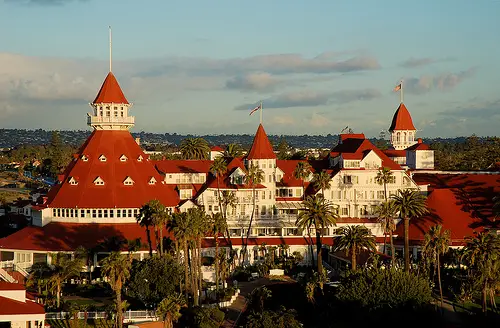 (source)
10. Old Town San Diego
Old Town
is full of historic buildings, restaurants, shops and entertainment!
You can take tours of the museums, visit the haunted house or just listen to the mariachi's and sip a margarita!