We have a special guest today… I met sweet Katie and her husband at Haven this summer!  Her sweet husband helps her write the blog and do projects. Katie is sharing 5 halloween projects with us today.  My favorite is probably the coffin.  Katie said it is so heavy they have to store it in the neighbor's garage because it would fall through their attic floor!
Hi C.R.A.F.T. readers! I'm so excited to be here today. My name is Katie and I blog at Sew Woodsy with my husband, Jon (dubbed Mr. Woodsy on the blog). We are a husband and wife DIY team. We document our journey of homeownership one tutorial at a time. Sew Woodsy is a place where we share our love for renovating and decorating on a budget. We absolutely LOVE Halloween and we love creating in expensive items to decorate our home with. Here are our top 5 Halloween projects from SewWoodsy!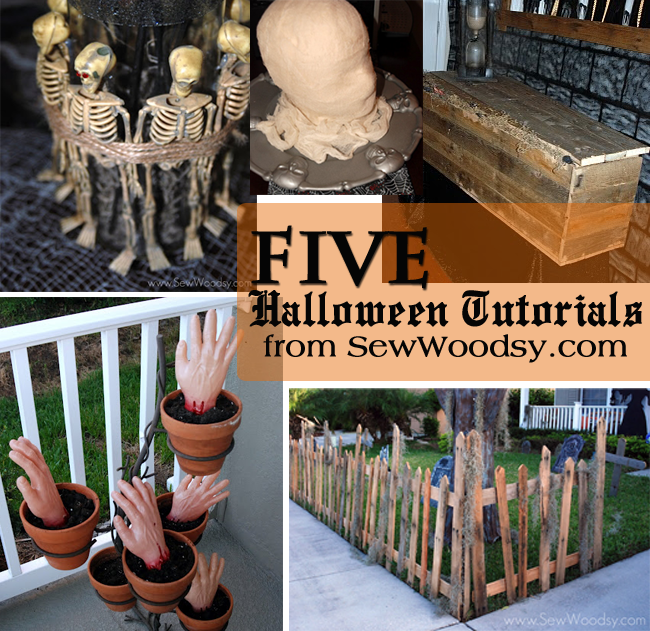 We made this fence last year to add an additional layer of spookiness to our front yard! Best of all we didn't spend any money on making it.
I saw this in a popular Halloween catalog and knew I didn't want to spend $70 on it, so I decided to make a version of my own. The entire project cost me $18!
I had a dream one evening to make this vase using the skeleton garland I bought from the Dollar Store just a few days prior.
A few years ago I begged Mr. Woodsy for a life size coffin… so using a few pallets he constructed this very rustic coffin that is now used year after year not only as display but as storage throughout the other 11 months!
Using a few severed hands from the dollar store and a plant stand I already owned I was able to create this simple yet creepy outdoor decor.
Thanks again, Jamie, for having me over and showing just a few of the many DIY Halloween projects we have on Sew Woodsy.